Selva is a sizeable resort near the head of Val Gardena, and one of the main bases to the Sella Ronda region

.
12 Ski Areas
450 lifts
More than 745 miles of slopes
50 towns
Florence, cradle of the Renaissance, romantic, enchanting and irresistible.   Florence (Firenze) is a feast of world-class, museums, galleries, architecture and Tuscan cuisine.
Dolomiti Superski ski pass price about
$340; senior rate 70+
Ski Rental at special group rate
Trip Cancellation Insurance
Day trips to
Also available without
Florence Extension - deduct $219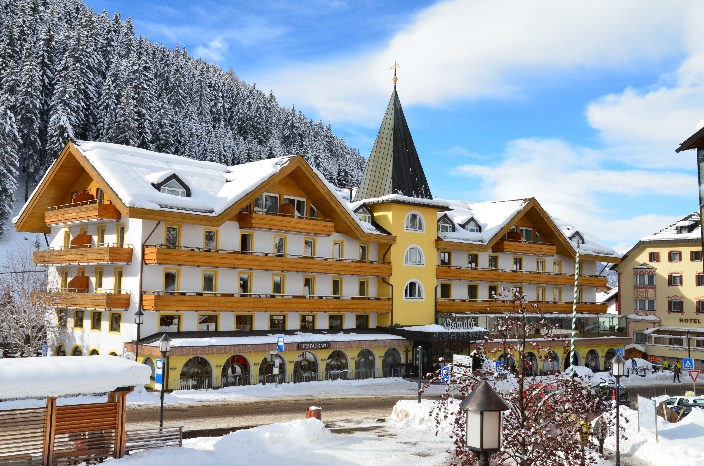 Round Trip on Lufthansa and Swiss Air; taxes, transfer fees and fuel surcharges,
All Ground Transfers
7 nights at the 4★ Hotel Oswald in
Selva; Dbl Occ.
Daily breakfast and multi-course dinner
3 night extension - Florence, Italy: Jan 19-22, 4★ Hotel Baglioni with breakfast daily;
Medical insurance

(per person)



Due By

Selva

Florence
Initial Deposit

$400

$50

07/01/2018

$500

$100

09/01/2018

$500

$100

10/01/2018

$500

$100

11/01/2018

Final Balance


**Your initial payment must make you current with the amount due when you sign up
(per person)



On or After

Selva

Florence
07/01/2018

$85

$50

10/08/2018

$175

$100

11/08/2018

$275

$100

11/23/2018

$725

$150

12/08/2018

100%

100%

***Cancellation fees plus any unrecoverable fees paid on your behalf, plus any fees incurred due to your cancellation
* The fine print: Above cost of trip is based on 84 people. There may be an increase with fewer participants. Price is based on double occupancy.
If you do not sign up with a roommate, one may be assigned to you. If none is available you may be charged the single supplement rate.
Increases may occur due to but not limited to, currency rate fluctuations, airline fuel surcharge
increase or increase in airline tax. By signing up for this trip, you agree to pay such increases.

Refunds due are paid after trip returns and any unrecoverable costs are determined. Tips for dinner and hotel service are not included.
For Travel Insurance information, please contact Randy.